When should organizations think about adopting a flat structure? And what does it take to make it work? Is it even the silver bullet that we've been told it is? Often we have heard about how businesses should organize in non-traditional ways to succeed in today's world: be 'agile', or adopt approaches such as 'holacracy,' 'RenDanHeYi' or 'scrum'. But what do these concepts actually mean? Are they even helping us to custom-tailor flat structures to our needs?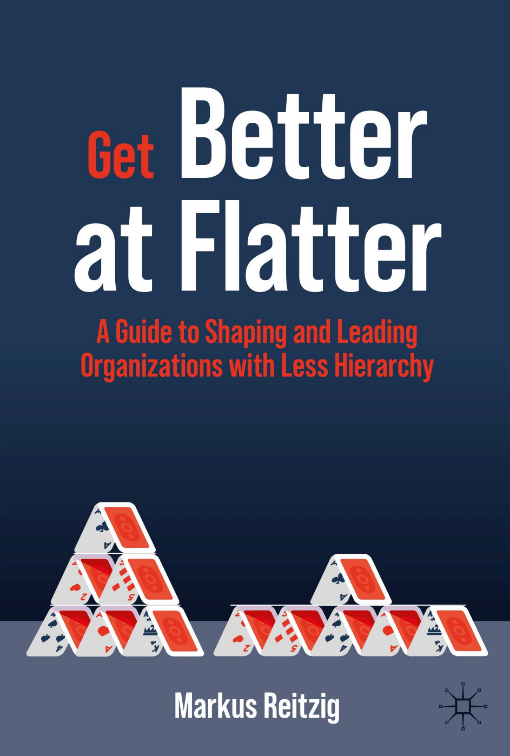 Leading expert Markus Reitzig, provides a no-holds barred account of flat organizational structures, taking the good with the bad and asking the reader to balance the opportunities and challenges that come with less hierarchical structures. He explains that there are many types of flat organizations, and that they may only be better than traditional companies in some instances, and only when the company picks the right structure given its goal and its people.
Taking an evidence-based approach to the advantages and disadvantages of decentralizing, this book offers a unique, practical guide for managers. You'll learn how to formulate realistic goals with fewer hierarchical layers, where to decentralize, whom to recruit and how to treat your staff. This is an indispensable guide for anyone who wants to figure out how to work with flat organizational structures, and whether 'flat' may even be right for them.
What others say about the book
"Professor Reitzig has produced a rarity of a book: a managerial book full of practical insights that is based on rigorous academic theory and evidence-based research. This makes Get Better at Flatter the go-to book for any senior executive interested in learning when to reduce the hierarchy of their firm and how to do so successfully. This superb book is full of fresh ideas and practical advice, written in a clear style and enriched with real company examples. You should not just buy this book; you should read it!"
Costas Markides, Robert P. Bauman Chair of Strategic Leadership, Professor of Strategy and Entrepreneurship, London Business School
"When it comes to organization design today, "flat" (and each of its near synonyms) is a cool idea. It may also be a stupid idea for your organization. This is the first book I have read on this topic that analyses rather than proselytizes. It shows how to think through the "why's" and "how's" of getting flatter in a systematic manner. A must read for anyone who would rather be a thoughtful manager than be among the herd of the "thought led"."
Phanish Puranam, Roland Berger Chaired Professor of Strategy and Organisation Design, Professor of Strategy, INSEAD
"Professor Reitzig's work on organizational forms that reduce hierarchy and enhance employee autonomy is both admirably and unusually systematic. In a sense, he is updating the classic work of Simon and March to the information age. The book will be a major contribution to what may be the central challenge to organization theorists today, which is apprehending and analytically unpacking the issue of organizational redesign in a rapidly changing environment."
Paul DiMaggio, Professor of Sociology, New York University
"Organization charts have fewer and fewer levels. But surprisingly little academic attention has been given to this important trend. Reitzig provides a much-needed theoretical framework for understanding when and why firms can benefit from flattening their structures. He also offers detailed practical advice on how to do it. Importantly, both his theoretical framework and his practical guidance account for the fact that firms vary in how flat they have historically been and in what they hope to achieve through a decentralized design. Anyone contemplating a reorganization should read it."
Olav Sorenson, Joseph Jacobs Chair in Entrepreneurial Studies, Professor of Strategy, UCLA Anderson
"This book strikes an unusually well-done balance between hands-on ideas and a carefully researched evidence base and will be equally useful for executives and academics interested in organizational design and hierarchy."
Stefan Thau, The Cora Chaired Professor of Leadership and Learning, Professor of Organisational Behaviour, INSEAD
"Prof. Reitzig's book is a welcome and timely contribution to the discussion about flat organizations. To date, the discussion has often been comparing two polar extremes – the boss-less organization versus a traditional hierarchy. Reitzig convincingly makes the case that the more useful discussion is the continuum between those polar extremes. The book provides actionable insights to managers who struggle with how much, what kind, and when to grant freedom to their employees."
Linus Dahlander, Lufthansa Group Chair in Innovation, Professor of Strategy, ESMT Berlin
"Flat, decentralized organizations have come a long way since the turn of the millennium, and are now on the brink of becoming a part of mainstream managerial practice. Reitzig's timely and insightful book explains why this is the case, and provides managers with crucial, evidence-based insights as to what they can achieve by "going flatter," when and with what approach, and how to make it happen. If you want your company to be faster and more innovative, and unleash the potential of employees, you should read this book."
Oliver Alexy, Professor of Strategic Entrepreneurship, TUM School of Management
"On a topic where fads and fictions have prevailed, this 'user manual' for leading flat organizations--grounded in Reitzig's deep expertise and decades of research--makes the complex simple, the hyped-up real, and the unforeseen predictable. A must read for anyone frustrated by hierarchy and red tape."
Ethan Bernstein, Edward W. Conard Associate Professor of Business Administration, Harvard Business School
"With this book, Prof. Markus Reitzig manages to free the flowery debate about New Work and New Leadership from its word cloud and makes it clear what one should really focus on when it comes to the practical application in a company. This practicality is not based on anecdotes or a subjective gut instinct, but builds on a solid empirical foundation. This makes it not only a book on management which is worth a read, but provides real added value for every executive."
Florian Bernschneider, Chief Executive of the Employers' Association (AGV) Braunschweig
"As much as I enjoy chatting about my current favorite topic with like-minded or curious people after the transformation of wirDesign, the wonderfully scientific perspective of Prof. Markus Reitzig's well-founded book surprised me and enriched my point of view. Anyone who wants to have a say in future discussions, instead of idly chatting, should invest their time well and read this book."
Andreas Schuster, Co-Founder and Board Member of WirDesign
"An eminently readable book that addresses one of the big issues faced by managers; making organisations 'match-fit' for a new generation of talent in a post-covid world. Professor Reitzig blends theory, primary research and his own industry experience to inform and provide clear, actionable insight."
Robin Colgan, Managing Director, Asia Pacific Importers at Jaguar Land Rover
"Get Better at Flatter by Prof Reitzig is an expertly-written book providing practical, yet deeply-researched guidance regarding the do's and don'ts of flat organizations, beyond the usual buzzword bingo of agile, scrum and kanban…"
Dr. Christoph Fischer, Division Head, BayernLB
"Prof. Markus Reitzig does a great job of providing orientation on a highly topical issue. Flat hierarchies and flexible organizational models are of great interest as part of a "new way of working". Established companies in the industry deal with this topic while trying to optimize organizational structures that have evolved over time. Prof. Reitzig manages to describe both advantages and limits of fewer levels of hierarchy in a clear and succinct fashion. His approaches combined with practical examples provide orientation in this complex and emotional environment. Making use of a straightforward chapter structure, he offers an efficient reference tool, thanks to the clear summary at the end of each chapter. As I can confirm from my own daily practice, the book has real added value for managers and helps to recognize mistakes or, ideally, to already avoid them at the outset."
Michael Lander, Co-Chapter Lead of Global Business Consulting & Digitalization, Siemens AG
Use our apps and other resources for free